OG's undefeated streak came to a sudden and violent end today when they faced Invictus Gaming in the Dota 2 Asia Championships Grand Final.
Invictus Gaming topped off an already very strong performance in this event with a masterfully executed 3-0 sweep of an
OG that had (until this point) seemed unstoppable.
Here's how the final match of DAC 2017 played out.
Game 1
After playing mainly Monkey King and Earth Spirit all tournament long, iG busted out one of
Ye 'BoBoKa' Zhibiao's lesser known comfort heroes as their surprise last pick in the Game 1 draft. Riki got off to a slow start in the early game, but proved extremely disruptive later on as he began to catch up and pick up items like Blink Dagger and Diffusal Blade.
iG got off to a very dominant start in this game, taking kills around the map to give them a big lead, but the combined pushing power of
Anathan 'Ana' Pham's Alchemist and
Johan 'BigDaddyN0tail' Sundstein's Terrorblade plus some big plays from
Gustav 's4' Magnusson's Puck allowed OG to hold on and even push down a Tier 3 tower first.
Despite these setbacks, iG never let any ground OG gained snowball out of control, and played very patiently. Their superior team fight from
Fu 'HHH / Q' Bin's Warlock and
Lin 'Xxs' Jing's Magnus allowed them to set up plenty of kills for
Xu 'BurNing' Zhilei's Juggernaut, and after holding off OG for over an hour, iG took the Game 1 win.
https://clips.twitch.tv/embed?clip=ThankfulBlatantCobblerSaltBae&autoplay=false
One of Xxs' many fantastic Reverse Polarities
Game 2
OG obviously felt that their team fight deficit in Game 1 had been an issue, so they opted to first pick Enigma this time around, adding Warlock for good measure. s4 had played Enigma for them the only other two times they picked it in this tournament, but they finished their draft with Centaur Warrunner. This put
Jesse 'JerAx' Vainikka on Enigma in the jungle, but with another Boboka Riki haunting his every step, JerAx got off to an extremely slow start.
With Monkey King and the big farmers removed in the first phase of bans, iG were happy to pick up Magnus for Xxs again and follow it with
Ou 'Op / 机枪兵' Peng's favorite Lina, who had been banned in the first game.
BurNIng's Spectre didn't get completely uncontested farm, but his 20 minute Radiance was fast enough to catch OG before they were able to fight back. With a Midas on Enigma and Fly forced to spend almost all his money on Sentries to hunt Boboka, OG's team fight was lacking when iG began to put on the real pressure.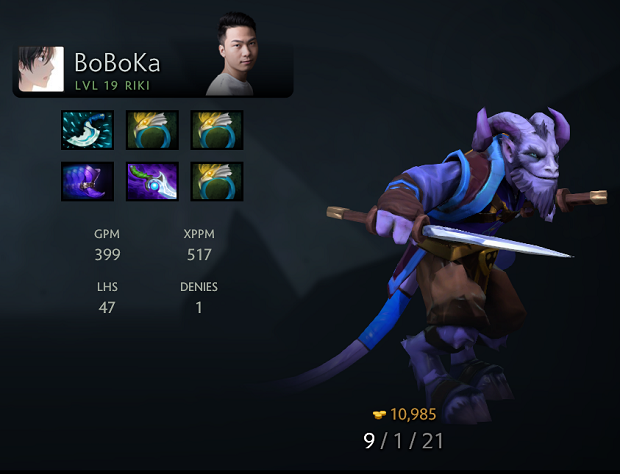 Boboka's item choices seemed a big unconventional, but you can't argue with that value for the stats.
It was an absolute disaster for OG. They tried their hardest to kill BurNIng's Spectre but the carry player escaped several times with just a sliver of life. Some team fights would start well, but iG would turn things around and come out ahead. By the end of this game, only N0tail had more than one kill to his name, and the overall kill score was 34-9.
Game 3
Just like that, iG were already on match point and OG had only managed to struggle weakly against them. It was a very different story from yesterday's upper bracket final between the two teams, and it seeemed that removing both Alchemist and Naga from OG was the key.
OG showed some signs of life in Game 3, but it was too little, too late. With Lina out of the pool, Op took Shadow Fiend and proceeded to steamroll OG's attempt at playing for the late game with ana's Ember Spirit and N0tail's Lone Druid.
BurNIng played carry Vengeful Spirit, but with both Shadow Fiend and Xxs's Legion Commander dishing out plenty of damage on the front lines, the venerated carry opted for a selfless build. Instead of buying items that would allow him to deal more damage, he buffed up his team with a Solar Crest and Pipe of Insight.
Axe and Monkey King made for strong high ground defence for OG, but thanks to the many heals and buffs coming from his team, Op could withstand anything that was thrown at him. After losing every lane of barracks before the 40 minute mark, OG made a desperation play and smoked out of their base, but when they found iG, all they got for their trouble was death. Knowing they were beat, OG called GG.
The crowd roared for their home team and iG took to the stage, every player grinning from ear to ear as DAC 2017 came to a close.