Fnatic have announced their new roster, which has been completely rebuilt after its post Boston Major collapse.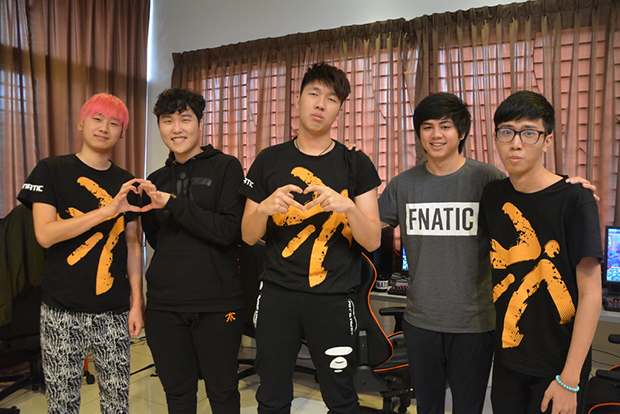 Chong Xin 'Ohaiyo' Khoo is now the only team member remaining from pre-2017, with
Kim 'Febby' Yong-Min the sole survivor of Fnatic's attempt this past January to reform the team with
Chai 'Mushi' Yee Fung still on board.
The full new roster is:
Galvin 'Meracle-' Kang Jian Wen

Kim 'QO' Seon-Yeob

Chong Xin 'Ohaiyo' Khoo

Djardel 'chrissy / DJ' Mampusti

Kim 'Febby' Yong-Min
The roster contains plenty of talent, there's no doubt about it. What is yet to be seen is how well these players will synergize with each other. As we saw in the True Sight segments with the old Fnatic roster, personality clashes can have a big impact on a team's success, no matter how strong the individual players are.
As for the new members, they come from a few different places. QO most recently played with
Team WanteD in NA, but is best known for his time with
MVP Phoenix*, with whom he TI5 and TI6, first placing 7th-8th, then improving to 5th-6th. Notably, QO played with new Fnatic teammate Febby at both of those events.
DJ returns to Fnatic after a spending the last half year with Execration. He originally joined Fnatic in August 2015, a couple months after Mushi. His fantastic support play helped the team reach 4th place at TI6, but he left as several members of that squad parted ways in the roster shuffle.
"When people ask me why I rejoined Fnatic, the answer is always the same – 'Because Eric asked me to'. It might sound like a joke, but it is actually testament to how close I am with the management and players from Fnatic," said DJ, in a statement in Fnatic's official announcement. "I think that we are building a great team and I think we can go far."
Meracle hasn't had as much success on the international stage, but he's come tantalizingly close in several Major qualifiers. He's been a staple of the SEA Dota 2 scene for many years, but has never attended a Valve event. His most recent team was Mineski, but when that team disbanded to rebuild around Mushi he found himself teamless.
The new Fnatic squad's first test will be The Manila Masters SEA Qualifiers. They were invited before the roster was announced, and will be competing with seven other direct qualifier invites as well as four open qualifier teams.
MAIN SPONSOR