TNC only arrived in Kiev yesterday but they hit the ground running with a great result against EG, and then Raven broke a record in the following match.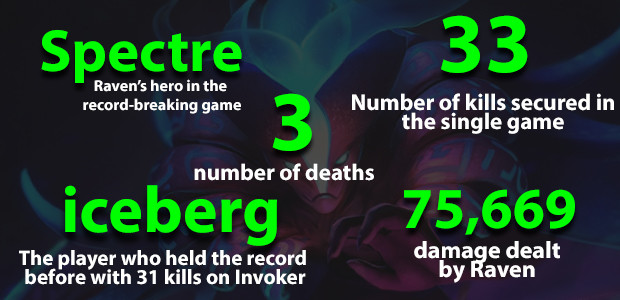 Raven breaks Valve record with 33 kills in just one game
Statsman Alan "Nahaz" Bester was kind enough to share the stat on Twitter after TNC's landmark 2-0 win over EG in the swiss groupstage led to Raven's phenomenal 33 kill game in Spectre. The kill streak came against Thunder Birds and Raven ended the game with 33 kills and only 3 deaths.
It came in game 2 of their encounter with TB which was a bloodbath. 89 kills in 55 minutes. Over the course of the game Raven also dealt over 75,000 damage, which even taking into account the Radiance damage, is still pretty ridiculous. His items were: Radiance, Manta Style, Butterfly, Heart of Tarrasque, Diffusal Blade, Boots of Travel and BKB.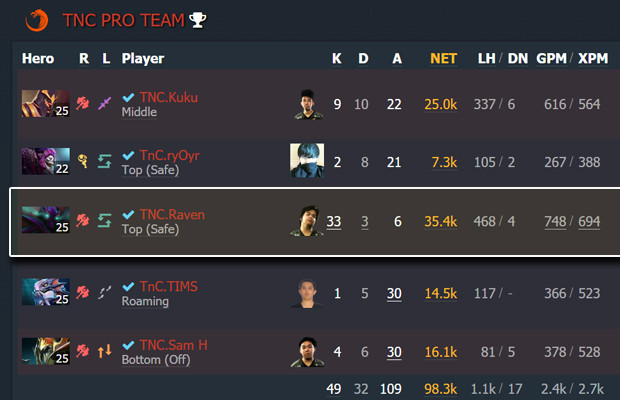 TNC's stats for game 2 vs Thunderbirds – Taken from
DOTABUFF
match page
Raven competed for TNC at TI6 where they placed top 8 but moved to Fnatic post-TI6. The Fnatic roster failed to get going and in the end he returned to TNC and results almost instantly improved when he did.
TNC beating EG was the biggest shock result of the first round swiss groupstage, and the fact they went on to beat Thunderbirds 2-1 with Raven amassing this kind of kill score is crazy. TNC's next opponent in round 3 is the very aggressive Virtus Pro, who also won both their matches against Faceless and Wings.